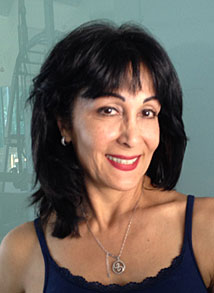 Jeeny Miller | Owner | Director
The first

Gyrotonic®

studio at Malibu
Jeeny founded GYROTONIC® Malibu 's flagship location in Malibu, California in 2006 in an effort to create her own ideal wellness and zen environment: a positive, friendly, and professional GYROTONIC®, GYROKINESIS®, GYROTONIC EXPANSION SYSTEM®, and Pilates studio that attracts and retains outstanding teachers and clients while providing exceptional and safe customer service. Jeeny enjoys providing her clients a strong workout while focusing on their individual needs, finding ways to help correct imbalances and maximize personal goals.
Her mind-body wellness journey began at Pepperdine University, CA, in 1985 where she was director and instructor at the fitness center, mind over body, and group exercise program for 20 years. After experiencing the transformative effects of the Pilates Method, then GYROTONIC® method she knew that this is the most complete method of workout to rejuvenate the body, mind, and spirit. Then she opened the first GYROTONIC® studio at Malibu.
After studying and completing Pilates , Jeeny discovered GYROTONIC® exercise in 2006. She loved how GYROTONIC® exercise complimented her Pilates training and challenged her to take her work - as a practitioner of the methods and as a teacher - to a much deeper level. She has completed certifications for GYROTONIC® and GYROKINESIS® methods and all of the specialized GYROTONIC® equipment. She was fortunate to be certified in both systems by Lisa Marie Goodwin Rice and GYROKINESIS® method by creator Juliu Horvath. Also she took different courses with Erica Hassan and Sebastian Plettenberg.
Jeeny has taken hundreds of hours of continuing education courses around the country covering a wide variety of subject matter including working with post-rehab clients who experience back, hip, and shoulder pain, refining, teaching Pilates to pregnant and postpartum women, modifying exercises for those with osteoporosis, and challenging elite athletes with the GYROTONIC® method.

Gyrotonics® Malibu serves Pacific Palisades, Santa Monica, Los Angeles, Marina Del Rey, Westwood, Topanga.

Certifications
•
Pilates and Mat Pilates Teacher Training Certification, Long Beach Dance and Conditioning
•
GYROTONIC®
2006
•
GYROTONIC®
Jump-Stretch Board, 2009
•
GYROKINESIS®
, Level I, 2007
•
GYROKINESIS®
, Up date Level I, 2011
•
GYROTONIC®
Leg Extension Unit, 2011 & 2012
•
GYROTONIC®
Archway, 2012
•
GYROTONER®
2008
GYROTONIC®, GYROTONIC® & Logo,
GYROKINESIS®, GYROTONIC EXPANSION SYSTEM®
and
GYROTONER®
are registered trademarks of Gyrotonic Sales Corp and are used with their permission.